"MATERIALIST"
June 2 @ 10:00 am

-

June 30 @ 5:30 pm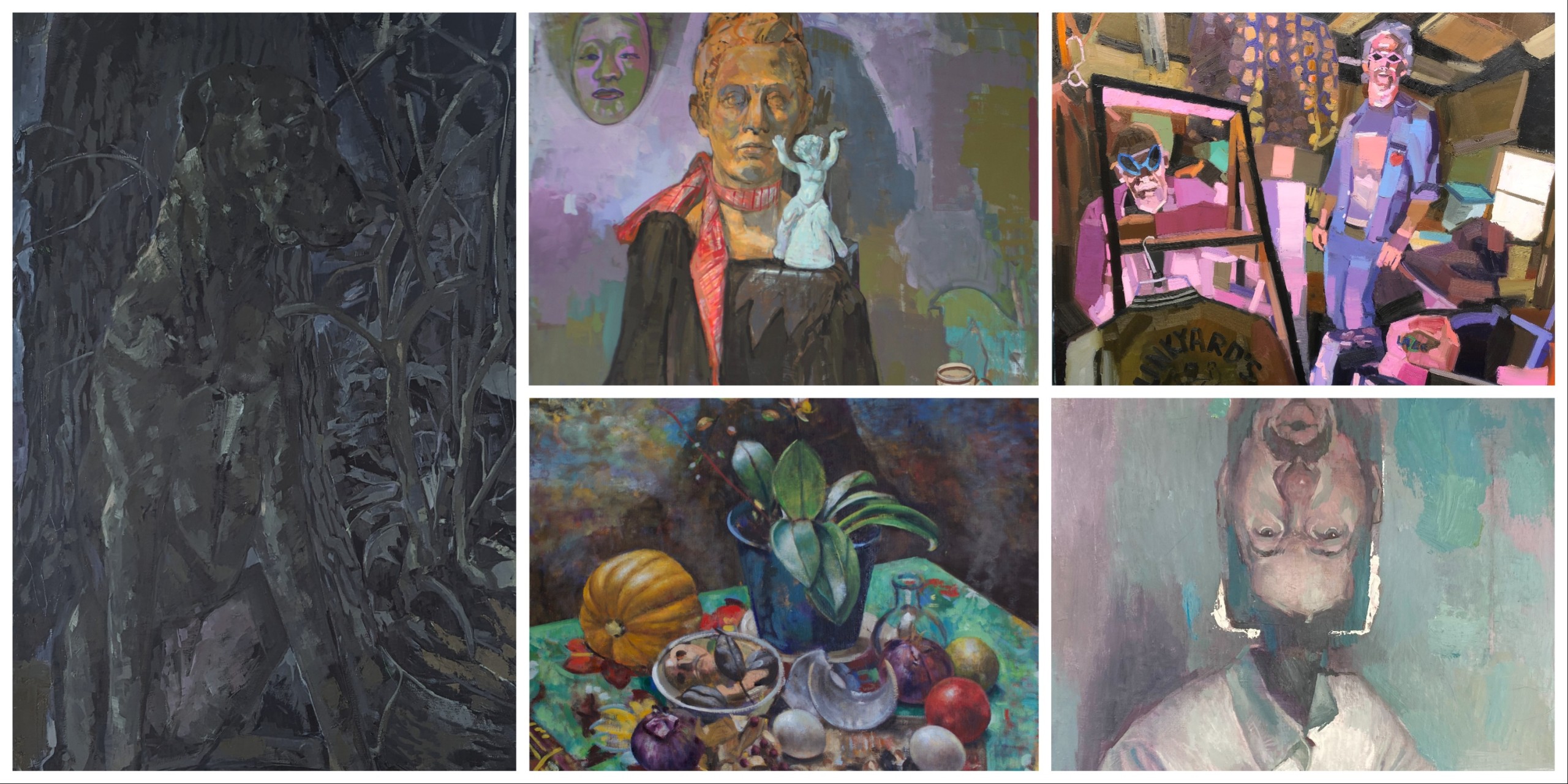 This group exhibition will feature artworks by regional artist group called "MATERIALIST"!
Featured Artists:
-Jessie Fisher
-Melanie Johnson
-Christopher Lowrance
-Michael McCaffrey
-Scott Seebart
We hope you will join us for our opening reception on First Friday, June 2nd from 5:30pm – 9:00pm!
—-
MATERIALIST is a group of painters dedicated to representation, observation and the expressive material subject. Meaning is embodied in each artist's vigorous processes and narratives that are at once deeply personal and openly poetic. The revelation of everyday life is drawn, painted, collaged and sculpted with an intensity that stems from each member's direct connection to personal and familial subjects. Close inspection of their work reveals individual methodologies which create captivating haptic and intimate visual experiences.
While our work is not interchangeable, each artist shares a love of the material and the gestural and the responsive. Each of us possesses a strong foundation in the tradition of perceptual painting and drawing, and approaches the medium as a a meditation on constructing meaning. Working as a collective has augmented our individual practices by highlighting very distinct approaches, while at the same time revealing striking rhymes in process, materiality, and meaning, often creating new narrative threads when the work is in dialogue.
—-
ARTIST STATEMENTS/BIOS:
Jessie Fisher's compositionally dense paintings blur distinctions between empirical fact and perceptual fiction through intimate portraits and surrogate objects. She has been an artist-in-residence at the Visual Arts and Design Academy, Santa Barbara, the Watershed Center for the Ceramic Arts and Studio Art College International, Florence, Italy and has lectured on her work at the Kemper Museum of Contemporary Art, the International Center for the Arts, Montecastello di Vibio, Italy and at the GuangXi Arts Institute, Nanning, China among others. She is a recipient of the Ohio Young Painters Prize and a founding member of Studio Nong, an international sculpture collective and residency program based in southern China. Her work has been exhibited in museums and galleries in Minneapolis, Saint Paul, Iowa, Ohio, New York, Philadelphia, Los Angeles, Kansas City, Italy, and China. Fisher was a Professor in Painting at the Kansas City Art Institute from 2005-2022 and is currently a co-director of Case | Edgerton Studios in St Paul, MN and a member of the Prince Street Gallery in New York City.
—-
Melanie Johnson's immersive large-scale drawings and paintings engage the viewer through carefully observed depictions of the natural environment, inviting the viewer to linger over a history and meaning that unfolds slowly. Johnson is a recipient of the Tallgrass Artist Residency, where she worked on the Tallgrass Prairie National Preserve, and the Charlotte Street Residency in Kansas City, Missouri. Her work has been exhibited in gallery venues in New York, London, Philadelphia, Chicago, Minneapolis, Cincinnati, and Kansas City, as well as in many academic institutions. In 2022, her work was featured in "A Changing World: Women to Watch", at the Kemper Museum of Contemporary Art. Johnson is Professor of Painting and Drawing at the University of Central Missouri.
—-
Christopher Lowrance studied at Indiana University, Missouri State University, and the University of Massachusetts and currently lives in Kansas City. Teaching, writing about art and occasional curatorial ventures complement his studio art practice–making mostly large scale, invented figure paintings and drawings plus smaller works from direct observation.
—-
Michael McCaffrey's current paintings, drawings, and collages focus on his family history and home; and the interconnection between a father and son. In the winter of 2016, Michael was awarded a two-week residency at the Kimmel Harding Nelson Center for the Arts. Michael exhibits both regionally and nationally. Recently, at Prince Street Gallery and First Street Gallery in New York, NY, Manifest Gallery in Cincinnati, OH, The Leedy-Voulkos Arts Center in Kansas City, MO and the University of Southern Mississippi in Hattiesburg, MS. Michael's work was published in Manifest Gallery's International Painting Annual 5 and 9, and in 2015 he received an international grant from the Elizabeth Greenshields foundation. Currently, he is an Assistant Teaching Professor in the Department of Visual Art at the University of Kansas where he teaches Painting and Life Drawing.
—–
Scott Seebart merges the tabletop with the allegorical, painting an arcadian re-enactment of the everyday object set within an extraordinary scene. Seebart has shown in group and solo exhibitions at the Susquehanna Art Museum, The American Museum of Art in Philadelphia, Pennsylvania, Lo River Arts in Beacon, New York and the Leedy-Voulkos Art Center in Kansas City, Missouri. He has been a visiting artist at the Mount Gretna School of Art, The International Center for the Arts in Montecastello di Vibio, Italy and Studio Nong in Nanning, China. Seebart is a co-director of Case | Edgerton Studios in St. Paul, MN and a member of the Prince Street Gallery in New York City.