"RETRIEVING THE MOON" – Curt Clonts & Emily Brookover
May 5 @ 10:00 am

-

May 27 @ 4:00 pm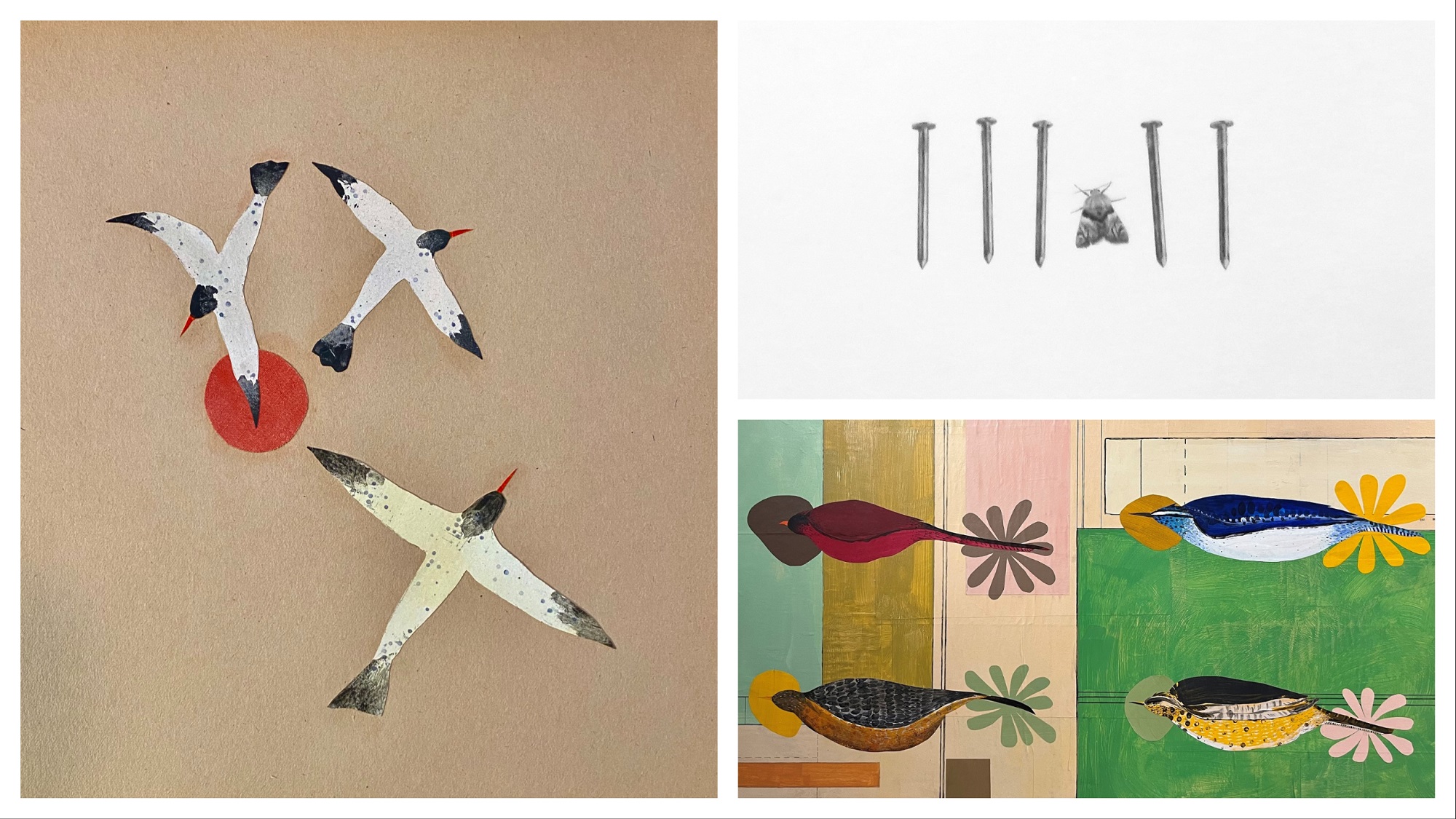 This exhibition will feature artworks by local artists, Curt Clonts & Emily Brookover!
We hope you will join us for our opening reception on First Friday, May 5th from 5:30pm – 9:00pm!
——–
ARTIST STATEMENTS:
CURT CLONTS: "I have thought a lot lately about what it was like when I was a kid. I grew up right here in College Hill. These neighborhoods, trees, park, and people are in my blood—they are my blood. Life was magical growing up here in the 1960's and 1970's. Aside from the fact that the oldest brothers of some friends were going off to Vietnam, it was magical. We played hard and we did our chores. We noticed everything. The smell of rain on mowed grass or burning leaves in the fall. Identifying the bird calls we heard from 100 year old elms. The taste of purple mulberries and pears that grow throughout the area. Barefoot, at all times, throughout spring and summer. Chlorine stinging the eyes at the swimming pool. The purple of irises and the pink of heavy peonies as they droop towards the ground in countless gardens. The scent of honeysuckle and trumpet vine.
These were the things that came to mind as I created much of the work in this show.
I'd turn on the lights in my studio and then flip on the music to prime my senses. Thelonious Monk, Cannonball Adderley, or early Miles Davis. Jazz. Seemingly improvised and always spontaneous. Never knowing what would turn up on the canvas, I just painted—driven by the music.
I drank amazing amounts of coffee—black, because it allowed me to work into the early morning hours, and because it reminded me that it was the smell of my grandmother's kitchen.
I live in College Hill today, after having gone away for some 21 years. I ALWAYS knew I would come back. I lived in other larger cities and on the other side of the world, in Okinawa, Japan (for 3 years). I married a young woman from Okinawa (she was 18/I was 19). I fell in love with her and the island life. We are still together after 43 years. This happiness is also in this body of work. And so are our children and grandchildren.
Our friends who come over and hang out with us on the front porch—they are in this work as well.
My show is about happiness. And it springs from memories made yesterday and today.
I don't want to create work about war and politics like I did in my younger years. I want to paint about the world I've created for myself. I like it this way. It's what I cling to and cherish. It's what I know.
It's home." – Curt Clonts
——–
EMILY BROOKOVER: "My work explores the various relationships between human identity and the things we choose to surround ourselves with or, in some cases, avoid altogether. Those things could be objects, textures, scents, sounds.
As humans, we often cling to or are completely repulsed by things that represent past moments, people, experiences, and trauma. One may feel an attachment to a jar of buttons, a cheap wallet, the smell of lilac, or the sound of the ocean. One may also entirely avoid blue bathrobes, dark wood floors, or the sound of fingernails clicking on a tabletop. These things, these objects, these responses may seem silly or insignificant to one person, while representing an entire lifetime to another. Choosing provocative objects and items from my memory collection to place within my work provides me the opportunity to recontextualize my experiences and redefine my attached feelings. The work allows me to take moments that were painful, bitter, or even regrettable and reconstruct them into new and positive stories." – Emily Brookover