Ownership Change for Reuben Saunders Gallery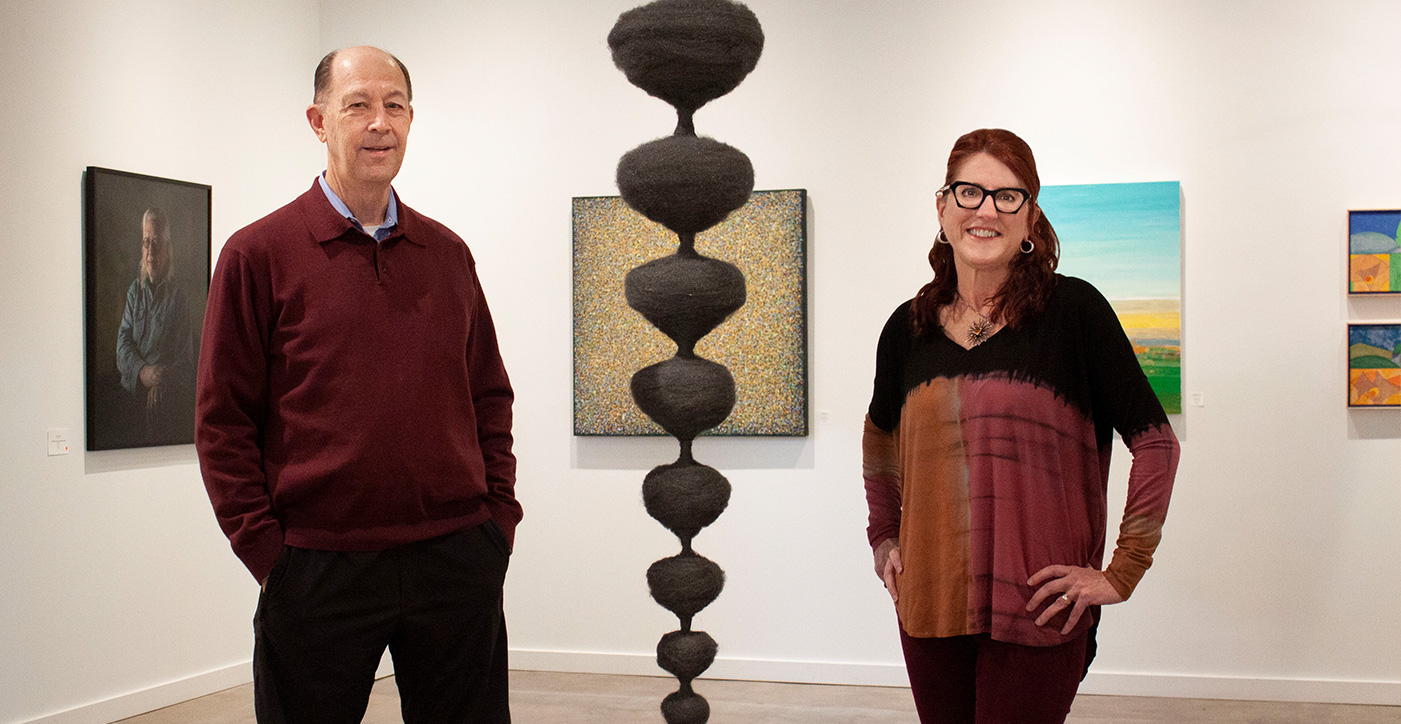 Link to the Wichita Eagle article of Thursday, December 10, 2020:
https://www.kansas.com/entertainment/article247732640.html
Deanna Harms
316.263.1004, ext. 111
DOWNLOADABLE VISUALS
https://www.gretemangroup.com/press/new-ownership-management-for-reuben-saunders-gallery/
Announcing New Ownership and Management for Reuben Saunders Gallery
WICHITA, Kan. – One of the region's premier art galleries is changing hands. Well-known art collector and banker Mike Michaelis assumes ownership of Reuben Saunders Gallery on January 1, 2021. Reuben Saunders, who founded the gallery 43 years ago, is retiring.
"My main objective is to keep the gallery going. Our community needs it," says Michaelis, chairman of Emprise Financial Corporation. "Reuben has done a fabulous job in creating an enterprise that's become an integral part of the region's art scene. That legacy is worth preserving and perpetuating."
Fostering a vibrant art community is not new to Michaelis. Over the last 50 years, he has amassed a large collection of Kansas art. Much is displayed at Emprise's statewide network of banks. His first purchases date back to three watercolors he and his wife, Dee, bought for $25 at the 1970 Wichita River Festival. "We still have them," says Michaelis, "and I still like them." Michaelis started becoming a serious collector in 1997 when the bank moved into a new headquarters in downtown Wichita and had lots of wall space to fill. He quickly decided they needed a focus for collecting art and it should help support Kansas artists. He assumed there would be about 100 artists whose work would be worthy of collecting. Today, the 3,000-plus-piece collection includes more than 800 individual Kansas artists. All have been personally selected by Michaelis. "I am not an artist myself, but it has been a wonderful journey of getting to know many Kansas artists and developing an appreciation for the rich variety of work they create," he says.
"I could not be more overwhelmed that someone of Mike's knowledge and dedication to the Wichita art community would view my gallery as an asset worth continuing," says Saunders. "The original mission of the gallery was to promote local and regional artists and that mission continues to this day. Mike's collection embodies the same spirit."
Michaelis says he found the perfect person to partner with to run the gallery: Trish VanOsdel. She will serve as vice president and secretary/treasurer. VanOsdel is a practicing professional artist herself, holding a master of fine arts in sculpture from Alfred University. She operates an estate sale business that helps people and organizations redistribute their art collections. She is also an appraiser of fine art, antiques, jewelry and collectibles with numerous certifications, including from the American Society of Appraisers, MASSArt Boston College and SUNY Purchase College. She also has significant retail experience. For years she helped her family run Richmond Electric, which closed in 2015 after eight decades of providing highly personalized services. She will continue to run VanOsdel Estate Sales and perform appraisals.
"I am elated to join Mike Michaelis in continuing the tradition that Reuben Saunders has built with the gallery," says VanOsdel. While Michaelis and VanOsdel have no immediate plans for change, they are enthusiastically exploring ideas. "Stay tuned," she says.
The gallery has built a loyal, longstanding client base and has earned the trust of the many artists it's represented over the years. It serves as a key venue for First Fridays and art openings. While other businesses have struggled under the pandemic, the gallery has never been busier. "People have been staying home, looking around and deciding it's time to add some meaningful, beautiful art," says Saunders. "Art nourishes the soul. I find it notable that many are choosing art during these trying times."
The gallery has also been changing with the times. In 2008, it added the Prairie Print Makers and estate art to its diverse offerings of Kansas artists representing multiple genres and media types. In 2015 it moved to a vintage brick storefront at 3215 E. Douglas, just east of Hillside and part of the Douglas Design District. Last month, it underwent a renovation that included removing a wall to open up the showroom's footprint. Following strict COVID protocols has enabled the gallery to stay open. Exhibitions change monthly. For Saunders' final First Friday, he personally curated a show that opened on December 4 and includes some of its stable of gallery artists as well as special guest work. That includes Randy Regier's "Colony 39," which can be seen in the front windows. The show runs through December 26.
"I have loved my role within Wichita's unrivaled art community," says Saunders, who turned 72 on December 1. "I always ran the gallery planning for the next change, which drove me and kept the business fresh. I am truly excited to see what new energy and vision brings. I leave knowing the gallery is in good hands."
For more information, visit ReubenSaundersGallery.com or its Facebook page.