Artist Spotlight: William J. Dickerson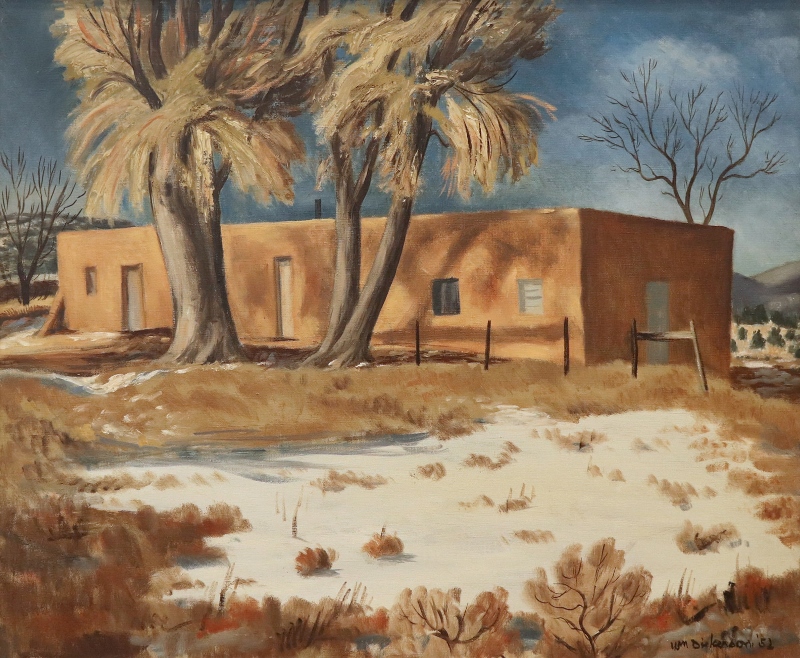 (1904-1972)   William Dickerson was born in El Dorado, Kansas, in 1904. Known as a figure and landscape painter, printmaker, and educator. He studied at the Art Institute of Chicago, eventually came to teach at the Institute, and worked for 38 years as the Director of the Wichita Art Association. Dickerson was also a leader in the development of professional art groups such as the Prairie Print Makers and the Prairie Watercolor Society. He was the Last Great Kansas Regionalist and received many honors, awards, exhibitions, and commissions during his career. He was a member of Prairie Print Makers; Prairie Water Color Painters; Wichita Artist Guild; Kansas Oil Painters; Society of Canadian Painters, Etchers and Engravers; Kansas State Federation of Art.
"Drawing is my hobby, my pastime, my work, my watchword."
Written by William "Bill" Dickerson in his high school year book in 1923.
During William's time in high school he was fortunate to be connected with influential Kansas artist C.A. Seward by his high school art teacher Gladys Bates. At the time, Seward ran a gallery on Douglas Avenue called the Seward Studio and hired William to work part time. This was the start of a 19 year friendship and working relationship.

"Untitled Nude", pen and ink, inquire for pricing
After William graduated from high school, he joined the the recently formed Wichita Art Association (1924). Along with the direction of C.A. Seward and the partnership of other Wichita artist, the WAA offered arts education programming and hosted many exhibitions which are said to be linked to the influence and direction of Dickerson.

"Sheds and Barn", block print, 9 1/2″ x 7 1/2″, $450
From 1924 to 1931, William worked with the Western Lithograph commercial printing company, studied at the Fairmount College under Elizabeth Sprague, and continued to work with the Wichita Art Association. With the encouragement and support of C.A. Seward and Ed Davison, Dickerson enrolled at the School of the Art Institute of Chicago.

"Church at Canyoncito", lithograph, 11 7/8″ x 8 7/8″, *Rare – Gift Print. A good impression w/ full margins, ed. 200.
Pencil signed "Church at Canyoncito" "WM Dickerson '42". Archivally framed. $1500
Returning to Wichita in 1931, William married Betty Millard and for their wedding they received a gift from Ed Davison of summer trip to New Mexico. Over the years, they made regular trips with their sons Tom and William David to Taos and Santa Fe. William created many works inspired by the desert landscape that range from lithographs such as this, drawings, paintings, and etchings.

"Untitled Tree", watercolor, 14″ x 17″
Watercolor focused on single windswept tree by Dickerson. $1200
While keeping his roots in Wichita and raising his two sons with Betty, William eventually was named the Director of the School of the Wichita Art Association which he held for 38 years. Together William and Betty, who joined the WAA staff, worked to build a children's art program and further expand the WAA's arts programming to include ceramics, sliversmithing, photography, and bookmaking to name a few additions.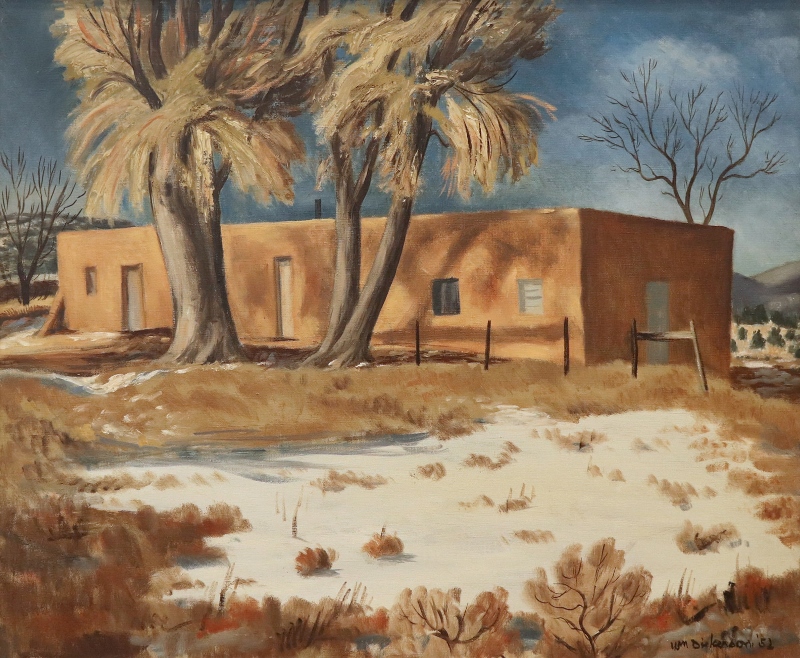 "Untitled (Adobe/Winter)", oil on canvas, 25″ x 30″
A warm scene focused on a long adobe building behind two trees. $4200
Dickerson had many students from a range of ages in his classes throughout the years, even well-known printmaker Arthur W. Hall attended a lithography lesson. Dickerson was known as an educator who taught by example and would regularly sit at his easel and demonstrate his process for his students. Artist Patric Rowley who was a student of William's at around age 14 is quoted 76 years later saying:
"He was never aggressive in his comments and always respectful of his students work." … "He taught us to look at our subject and break it down, by first defining the large shapes and then proceeding to the small. To look at color in the same way, first the bold areas of clear color and then the shadows."

"The Red Cliffs", lithograph, 8 3/8″ x 14″, $750
Even in retirement from the Wichita Art Association, Dickerson produced many works and noted saying that retirement should not stop his pursuit of making art. He said that, "…I want to devote more time to my own creative endeavors – 'heaven knows it's not because I'm too old!"
Dickerson was a notable arts educator in Kansas and was passionate in his ability to share his practice and process with artists of all ages. Many of those artists who were inspired by William are Kansas artists who are still making work today. He is remembered for that and for being an innovator of Wichita's arts community.
Information compiled from the catalog: " William J. Dickerson (1904-1972) Lithographs, Block Prints & Etchings". Written by: Barbara J. Thompson. Published by: Wichita Art Museum, 2016.
To see more work by William J. Dickerson, click here