Trude Hanscom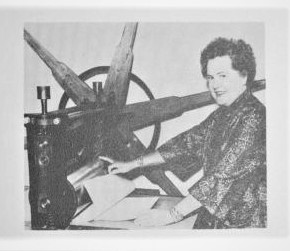 Trude Fandrich Hanscom (1890-1975) was born in Oil City, Pennsylvania and grew up in Waterloo, New York. She studied art at Syracuse University, in New York and worked for years as a stenographer in Geneva, New York. In California, she studied art at Scripps College, Otis Art Institute, University of Southern California, and the University of California.
Hanscom has exhibited at the Golden Gate International Exposition, Women Painters of the West, Society of American Etchers, Pasadena Art Institute, the Los Angeles Museum, the Royal Academy, Print Makers of California, the Pasadena Museum of Art, and the American Artists Professional League.
In 1965 she received an Honorary Life Membership in the Society of American Graphic Artists.  Her work is in the collections of the National Academy of Design, New York; Metropolitan Museum of Art, New York; Library of Congress, Washington, DC; Pennsylvania State University, University Park, Pennsylvania; and California State Library, Sacramento.
Source:  Phil Kovinick and Marian Yoshiki Kovinick, An Encyclopedia of Artists of the American West