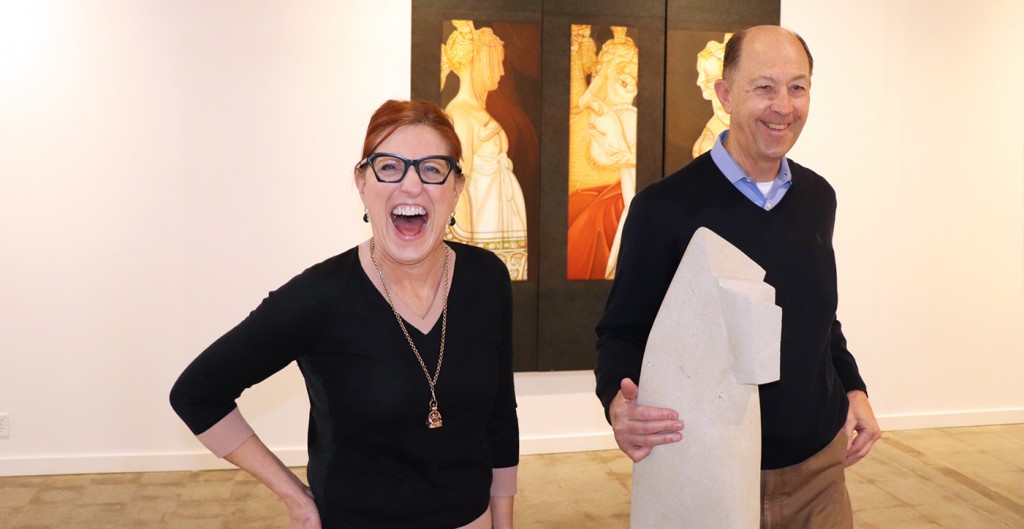 New Owners,
New Era
The legacy started by Reuben Saunders in 1977 continues undiminished. New owners Trish VanOsdel and Mike Michaelis, supported by the gallery's experienced staff, offer impeccable art and framing. Works from the Prairie Print Makers and Associated American Artists appeal to buyers worldwide. Think Birger Sandzén, William Dickerson, Sue Jean Covacevich, Clayton Staples and Lester Raymer. Newly represented artists and such new offerings as artisan jewelry and handcrafted furniture make each visit an act of discovery.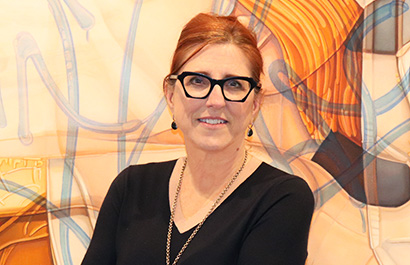 Trish VanOsdel
Co-Owner
Wichita native, professional artist and gallery co-owner, Trish VanOsdel brims with ideas. She always aspired to be part of a gallery and now has made that dream come true, bringing considerable experience and expertise to her role. Trish holds a master of fine arts in sculpture from Alfred University in New York. She operates an estate sale business that helps people and organizations redistribute their art collections and is an appraiser of fine art, antiques and collectibles. Her hard-won bank of knowledge comes from the American Society of Appraisers, MASSArt Boston College and SUNY Purchase College. Trish is USPAP (Uniform Standards of Professional Appraisal Practice) compliant. Her significant retail background includes years helping her family run Richmond Electric, which closed in 2015 after eight decades of providing highly personalized services. Gallery customers as well as represented artists can rely on Trish to serve them knowledgeably, honestly and personably. It's simply her way. "Talk to me about everything from how to sell inherited paintings to transforming a work of art with custom picture framing," she says. – Email Trish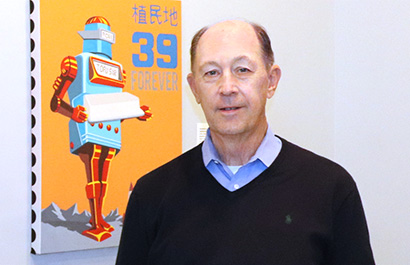 Mike Michaelis
Co-Owner
Well-known Kansas art collector and chairman of family-owned Emprise Financial Corporation, Mike Michaelis assumed ownership of Reuben Saunders Gallery upon its founders retirement in early 2021. Fostering a vibrant art community is not new to Mike. Over the last 50 years, he has amassed the largest collection of Kansas art in the world. Much is displayed at Emprise's statewide network of banks. Mike started becoming a serious collector in 1997 when the bank moved into a new headquarters in downtown Wichita and had lots of wall space to fill. He decided they needed a focus for collecting art and it should help support Kansas artists. He assumed there would be about 100 artists whose work would be worthy of collecting. Today, the 3,000-plus-piece collection includes more than 800 individual Kansas artists. All have been personally selected by him. "I am not an artist myself," he says, "but it has been a wonderful journey of getting to know many Kansas artists and developing an appreciation for the rich variety of work they create."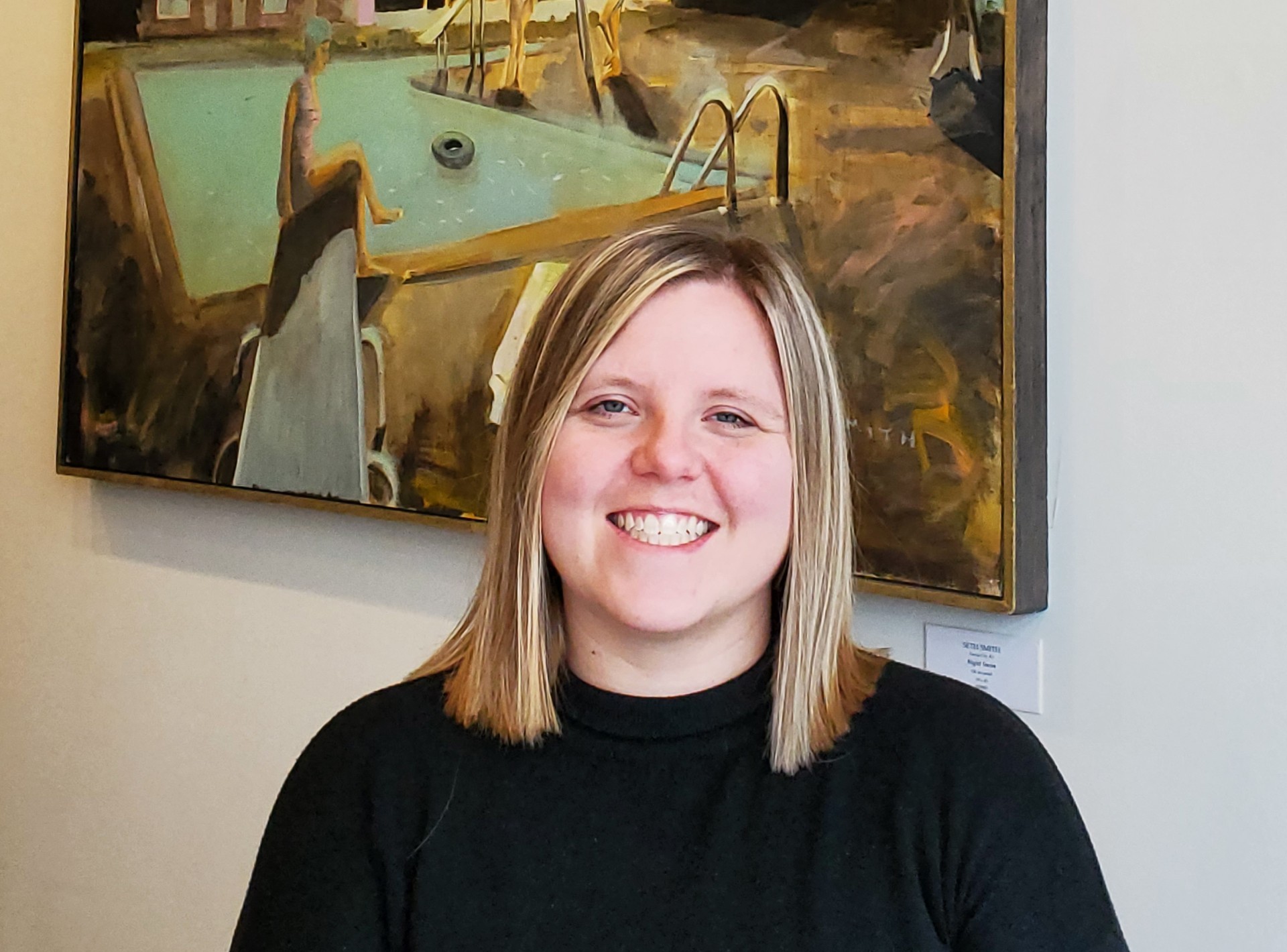 Calli Richardson
Framing Manager
Calli has taken the reins in our frame shop, and she has things running like clockwork. As Framing Manager, Calli faces many challenges with unique frame orders and tackles every single one with a smile on her face. Her sweet disposition makes for a great experience for our customers when choosing mats and frames for their projects. After getting her BFA in Art History from KU she spent some time in Boston where she worked in the downtown Jewelers Building for a local jeweler. She and her husband decided to move back to Wichita in 2017 to be close to family. In their spare time they enjoy going to local art events, traveling, and finding new hidden gems around the city. – Email Calli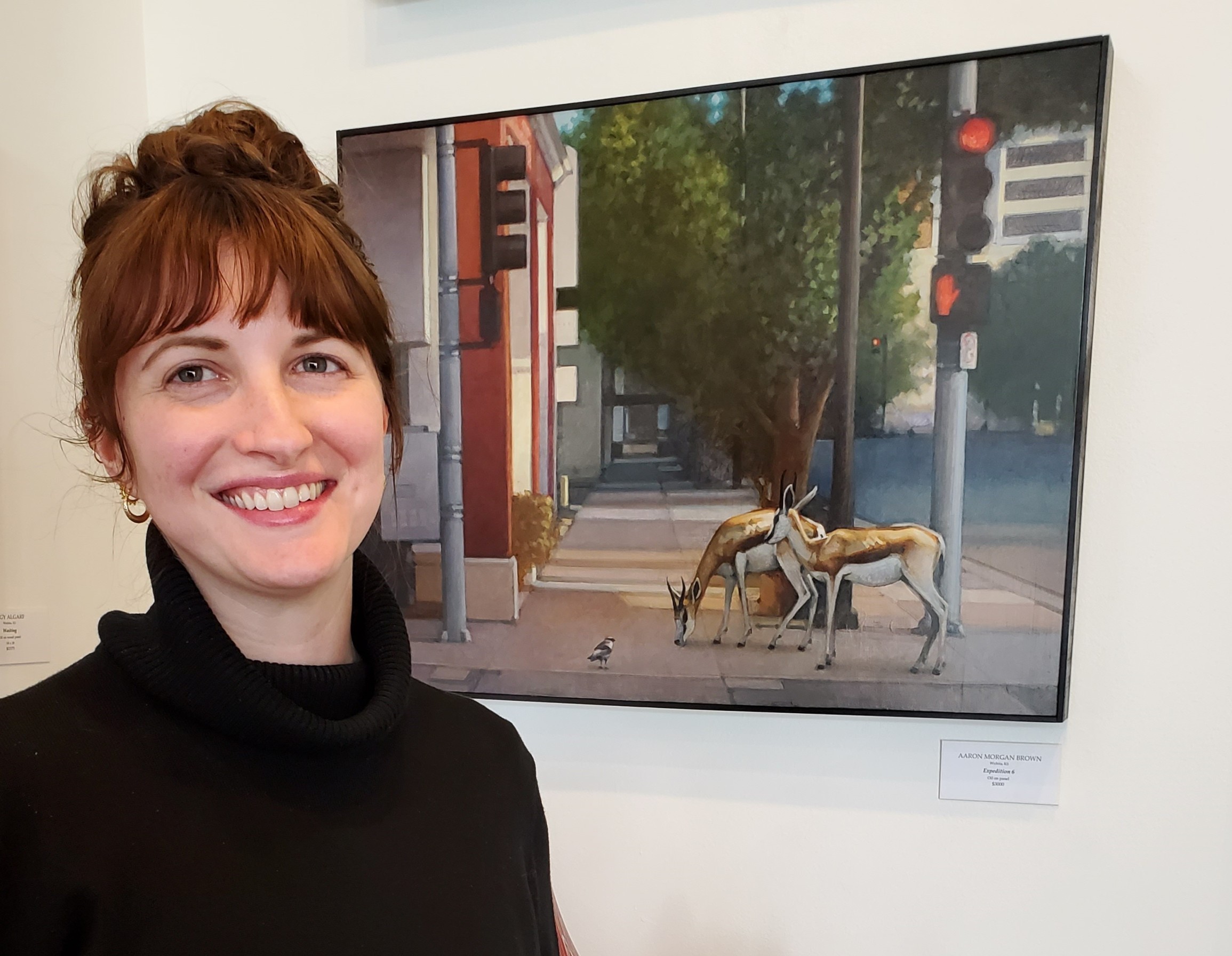 Anya Hamilton
Assistant Framing Manager
A Welcoming Hub for Collectors and Art Enthusiasts
Reuben Saunders Gallery has become integral to Wichita's art scene. Founded by Reuben Saunders in 1978, our gallery started on East Central and quickly attracted an exciting bevy of artists. Over the years, we became especially known for consigned and estate art. In 2008, we added the Prairie Print Makers to our diverse offerings of artists, representing multiple genres and media types. In 2015, we moved to our current vintage brick storefront at 3215 E. Douglas, making us a key member of the Douglas Design District. Our gallery has long been a leading venue for First Fridays and must-attend art openings. Art lovers consider us almost a second home.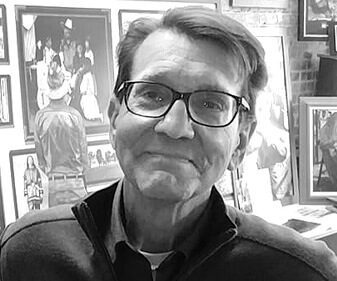 "The original mission of the gallery was to promote local and regional artists and that mission continues to this day."