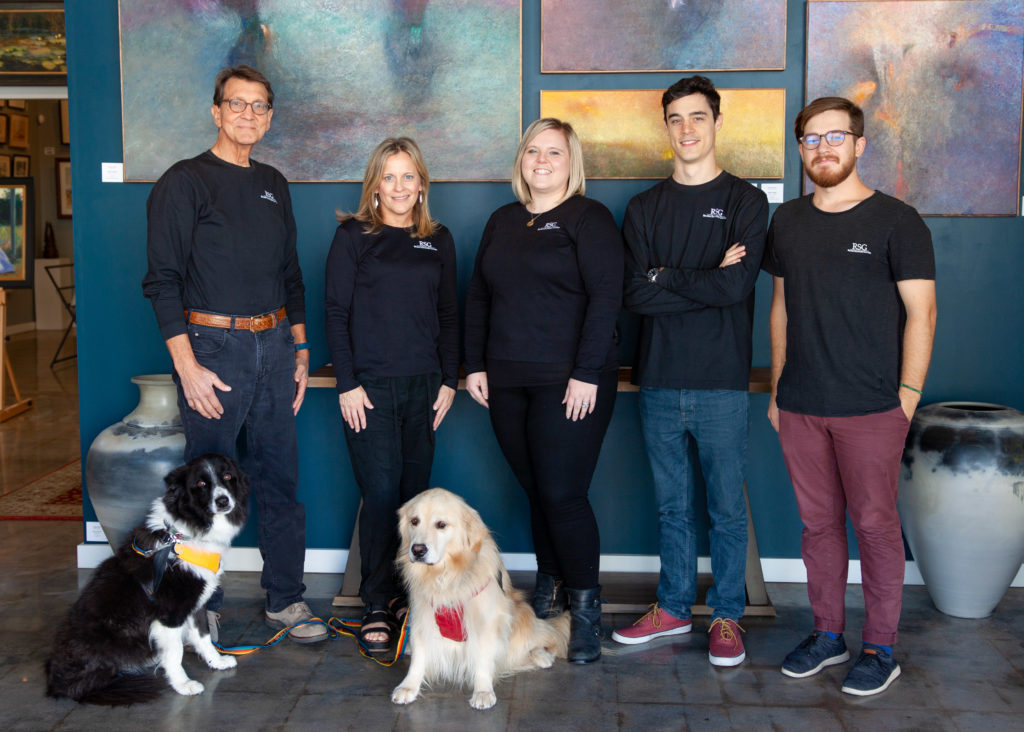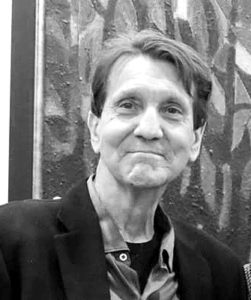 Reuben Saunders
Reuben began his art collecting life as a teenager in his native North Carolina on pre-dawn trips to Seagrove, NC to find right-out-of-the-kiln American craft pottery that later made that region nationally famous. He graduated from the University of North Carolina where he studied political science, chemistry and American history.  Reuben's prime objective now is to travel as much as possible to visit artists' studios, galleries, museums, and art fairs.  When in the gallery he is always available for customers.
He opened Artworks on May 22, 1978 at 2906 East Central with a small show gallery and frame shop in the back and tapped into his past life as a chef to support himself while getting started.  The plan was to showcase primarily Kansas artists who, at the time, were not being shown or represented in Wichita.  The framing business and gallery business both grew over the years precipitating several moves.  Our latest is the best ever – a beautiful old building in the heart of the Douglas Design District.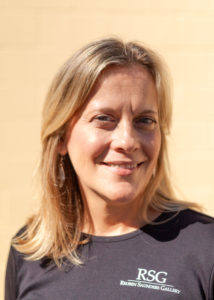 Brigitt Thomas
Brigitt, our West Virginia Mountaineer, is our Gallery Director at Reuben Saunders Gallery.  She studied Fine Art at Marshall University, worked for a framing business in North Carolina for several years, painted murals on the side and made two beautiful children.  After moving to Kansas, she found that the way to connect to her community and make friends was to work in a field she enjoyed.   Thankfully for us, she did!  Since working here, Brigitt has taken on new and rewarding projects; some of which are print and painting restoration.  She enjoys a restoration challenge!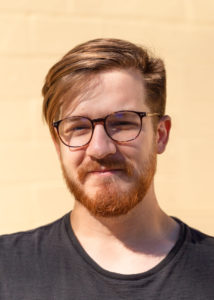 Dale Small
Dale serves as the Marketing and Media Director at the Reuben Saunders Gallery. He is an interdisciplinary artist, designer, photographer, and community organizer from Wichita, KS. He is a recent WSU School of Art, Design and Creative Industries graduate with a BA in Art History with emphasis in gender studies and Latin American art. During his studies, he also focused on expanding his skills and understandings of design, portrait and documentary photography, and community arts engagement.
Dale is known for his community work with the Horizontes project based in Wichita which commissioned the largest mural in the world, 19 community murals, and exhibitions at WSU ShiftSpace and the Kansas African American Museum. As an artist and photographer, he has exhibited around Wichita, regionally at the University of Nebraska-Lincoln, and internationally a part of _!!!A R T Section in 13th Havana Biennial in Cuba and the 23rd Gwangju Biennale in South Korea.
Calli Richardson
Calli has taken the reins in our frame shop, and she has things running like clockwork.  As Framing Manager, Calli faces many challenges with unique frame orders and tackles every single one with a smile on her face.  Her sweet disposition makes for a great experience for our customers when choosing mats and frames for their projects.
After getting her BFA in Art History from KU she spent some time in Boston where she worked in the downtown Jewelers Building for a local jeweler.  She and her husband decided to move back to Wichita in 2017 to be close to family. In their spare time they enjoy going to local art events, traveling, and finding new hidden gems around the city.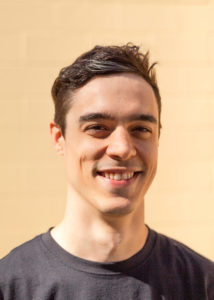 Josh Tripoli
As a part-timer at the gallery, Josh fills lots of roles – Artist, Muralist, Gallery Assistant, Framer.  Josh is represented by the gallery and has his own artwork on display. Through Lupoli, his design company with Rebekah Lewis, he helped design and paint our iconic "Greetings From Wichita" mural. In his time at the gallery, Josh installs shows, assists customers, and helps to keep the frame shop on schedule.
Josh is an active artist in Wichita and has worked with a wide range of nonprofit organizations through mentorship and community painting projects. As a visual artist for Kansas Arts Partners, he designs art programs for the youth of Wichita. Working with the Douglas Design District, he has designed and executed many popular outdoor murals to encourage tourism and interest in local business. Josh progressively works toward a universal language for visual arts in the community.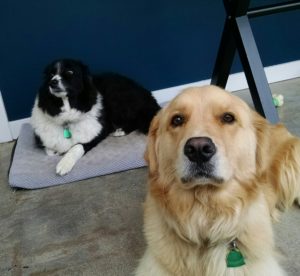 Mollie Malloy & Mimi Amor
Dogs have always been a presence in the gallery.  Our current ArtDogs are Mollie, a slightly shy and retiring Border Collie mix from the Kansas Humane Society, and Mimi, an in-your-face Golden Retriever.