Richard Davies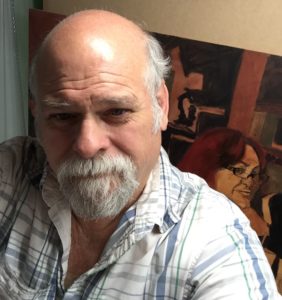 I've been painting for 46 years. I went to Wichita State University ostensibly to get a degree in
painting. At that time, Wichita State University did not teach what I wanted to learn, which is
unfortunate. This was many years before the Internet made the entire art world available to
artists. I believed that there was no educational institution that could teach me the fundamental
technical information that I desired such as how and when to use a fan brush, what was the
difference between a sedimentary paint and a staining paint, how to model form using the limited
light and color range of paint, and about 1000 other things that I really wanted to know. By
taking private lessons and gleaning what information I could from old texts, I learned how to
paint—in any style. I have painted dada, abstract expressionism, abstract realism, cartoon style,
photo realism, impressionism, loose realism, "modern" realism and many more. People from
around the world have collected my paintings. I am grateful for that. I did not have enough room
to store all those paintings. To me, the point of painting is to challenge myself. It is to create
something that I want to sit in front of and look at while drinking coffee. Painting is about
process. It is about the puzzle that all painters confront whether that be the technical, emotional,
or intellectual. It is about making choices. We all make choices to facilitate change, or to freeze
time in its tracks. Artist make choices. Collectors make choices. These are theirs to make.