Marlana Stoddard Hayes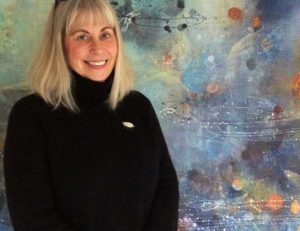 Originally from Iowa, Marlana Stoddard Hayes spent her early years in both Wyoming and the Midwest. She attended the Kansas City Art Institute in the 1970's, then earned a BFA from Colorado State University and later her MFA from Wichita State University. For many years, she was an artist in residence with the Kansas Arts Commission with grant funding from the NEA and from the KAC, while residing in Western Kansas.
While living in Aix-En-Provence, France in 1990, she received a fellowship with the Neskowin Coast Foundation in Oregon. Marlana has lived in Oregon ever since, where she has developed a body of work that references the atmosphere of landscape. She has been a guest artist at a series of colleges and Universities and has given academic papers at conferences including Stanford University, The University of Michigan, Minnesota State University, Pacific University, and Marylhurst University among others. Currently a full-time painter, she remains as summer faculty at the Sitka Center for Art and Ecology on the Oregon Coast.