Fletcher Martin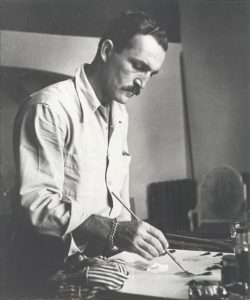 (1904-1979)
"Briefly concerning the artist –
Fletcher Martin, born in Palisades, Colorado in 1904, gained an mediate (sic) reputation for his paintings of the famous waterfront in San Francisco, rodeos, boxing matches, and other phases indigenous to American life. He is the recipient of many prize awards, including first prize at the All-California Exhibition. He is represented in the permanent collections of the Metropolitan Museum, the Museum of Modern Art, the William Nelson Rockhill Gallery, the San Francisco Museum, the Library of Congress, and the Denver Museum, as well as in many private collections.
In 1943 Martin went to North Africa as a war-artist correspondent for Life Magazine, arriving in Casablanca just as the Germans began retreating. He followed the battle to Algiers, Tunis, Cape Bon and Mateur.
He has recently painted a number of portraits and now spends time painting in Woodstock, N.Y. and New York City."
-Associated American Artists, 711 Fifth Avenue, New York 22, N.Y.