David Olson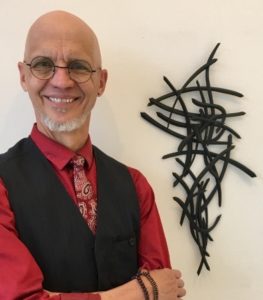 "The making of visual images has been a part of my life from an early age. I fondly remember the feeling of accomplishment in using the discovery process when playing with a variety of materials as a child. I recognize today that the feeling of accomplishment I felt then, means that I have opportunities of growth today. The nature of discovery, along with the potential for growth when creating, still fuels a passion to this present day. My art-making journey has continued since that young age.
The present artwork uses paper as the vehicle for discovery. I found that using paper provides a basis for me to visualize the movement that I feel with my body and mind. The sensations I visualize come from life activities that start when I wake up, continuing with the disciplines I use as I go through the day. Paper has a transitory aspect to its nature, yet has characteristics of permanence. This mindfulness continues throughout the making of the work, from surface manipulation of mark making through acknowledging the first cut and fold."
Graduate of Bethany College and MFA from Southern Illinois University Carbondale.